A Japanese company was able to invent a healthy, smart, and miraculous spoon that makes a person feel the taste of salt by trick and trick without eating it, in order to reduce salt consumption in food, which leads to preserving public health and preventing high blood pressure and causing related diseases.
According to the information published by the British newspaper "Daily Mail", and viewed by "Al Arabiya Net", the spoon works with the help of electrical waves to transfer sodium ions or "electrolyte salt" to your mouth, which makes the person feel salty in eating without having to eat salt.
This innovation came from scientists at Meiji University in Japan, where the researchers behind this invention say it is expected to be put on the market later this year.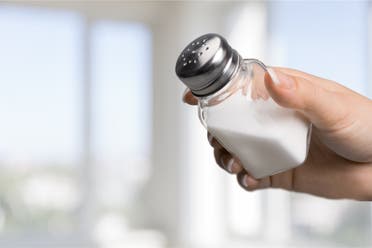 Salt – iStock
Enhances the salty taste of low-sodium foods by 1.5 times
And the producing company confirms that this spoon is so effective that it enhances the salty taste of low-sodium foods by 1.5 times.
Scientists hope that the spoon and bowl will help improve people's lifestyles, with the electric salt machine launching in 2023.
Scientists in charge of the project revealed that the electronic taste-sensing technology works by using a very weak electric current to transfer electrolyte salt to the person's mouth, and it does not have any negative effect on the human body, and instead changes the way food tastes through false sensory perception.
Not the first time
Clinical tests showed that the saltiness of food increased 1.5 times when tested in subjects who were trying to reduce salt.
The new spoon and bowl aim to eliminate the need for extra salt while making food enjoyable.
This isn't the first time Professor Miyashita and his lab have explored ways technology can interact with and stimulate human sensory experiences. Last year, the team created a device shaped like chopsticks using the same technology.
The same researchers developed an electric chopstick that delivers sodium ions to a person's mouth, this time through their wrist, to restore the sense of saltiness.
As with the new spoon, the device uses a weak electric current to move sodium ions from food, via chopsticks, into the mouth where they create a sensation of saltiness, said Professor Miyashita.
World Health Recommendation
In Japan, the average daily salt intake is 10.9 grams for men and 9.3 grams for women over the age of 20, well above the WHO recommendation of 5 grams per day.
While doctors say that excess sodium (salt) intake leads to high blood pressure, strokes and other diseases.