Two days after the occurrence An earthquake that killed at least 271 In Indonesia, relief personnel in the country succeeded in removing a child from under the rubble, who had been stuck there since Monday.
"When we realized that 6-year-old Azka was still alive, everyone burst into tears, and so did I," said volunteer aid worker Jexen Colepo, told "Agence France Presse," noting that what happened was a "miracle."
A video clip showed Azka's rescue operation on Wednesday evening, from the rubble caused by an earthquake that occurred on Monday near the Cianjur region, west of the Indonesian island of Java.
In the videotape published by the authorities of the Bogor region in West Java, the rescue element appeared smiling while carrying the boy, while another element ran behind them to hold the child's hand, then he appeared to drink a liquid while the rescue element caressed his hair.
next to his grandmother's body
Colepo indicated that the child was present next to the body of his grandmother, and he escaped death thanks to a wall that withstood the earthquake, which prevented another wall from collapsing above him, according to local media.
He also explained that "the child was on the left side of the house, on top of one of the beds. He was protected by a pillow and at a distance of ten centimeters from a concrete wall," adding that the place "was narrow, dark, and very hot, and the opening did not allow a large amount of air to enter."
He continued, "We did not expect him to be alive after 48 hours, otherwise we would have made extra efforts the night before to find him."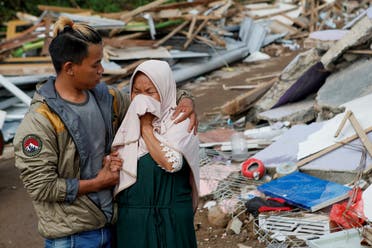 A woman cries after her house collapsed in an earthquake that rocked Indonesia's West Java province – Reuters
It is noteworthy that the latest toll announced by the authorities on Wednesday evening killed 271 people, missing 40, and wounded more than 2,000 others.
The magnitude of the earthquake was 5.6 degrees, and Monday struck the West Java province, the most populous in this archipelago located in Southeast Asia.
Victims died in building collapses and in landslides caused by the earthquakes.
This is the largest earthquake toll in Indonesia since 2018.