An officer and a non-commissioned officer in the Jordanian Public Security Directorate revealed details The killing of Colonel Abdul Razzaq al-Dalabeh in the Husayniyyah area in Ma'an Governorate, southern Jordan, by unidentified terrorists, on Thursday.
Lieutenant Faisal Da'ja, one of the security men injured in the Husseiniya incident, said in his interview with the Jordanian TV that between 10:30 and 11:00 p.m. there was a closure of the public road in the Husseiniya area, and a security force was present in the area accompanied by the late Colonel Al Dalabeh.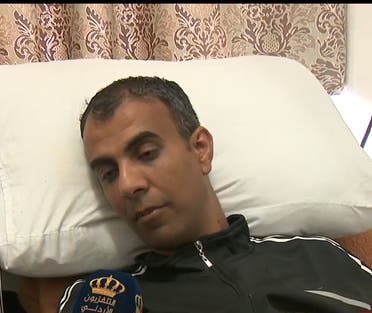 Lieutenant Faisal Dajah
He added that the security force dealt with the incident, and the roadblocks were removed from the public road and opened to citizens and passers-by, but the security force was surprised by unidentified gunshots being fired in a dark agricultural area containing many trees.
Lieutenant Al-Daajah pointed out that he, accompanied by cadres from the Directorate, tried Ambulance Colonel Dalabeh After being wounded, he died.
For his part, the other injured person in the incident, Corporal Hamad Al-Sarhan, from Al-Hussainiya Security Center, said that the force tried to treat Colonel Al-Dalabeh as much as possible, and called for the Civil Defense, but he died.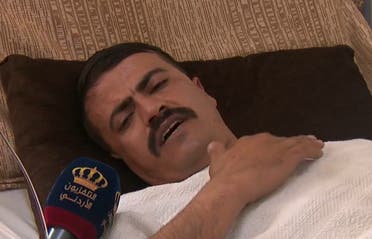 Corporal Hamad Al-Sarhan
Al-Sarhan added: "Everyone started checking the injuries after the accident..and we did nothing but our duty..and I do not expect that a sane person harms a security man..we are trying to control the situation for the sake of the people."
Yesterday, Thursday, a security force dealt with a riot that was being carried out by a group of outlaws in the Husseiniya area, which resulted in the death of Colonel Dr. After firing shots at security.
Under royal directives, the head of the Royal Hashemite Court, Yusef Hassan al-Issawi, and the Chairman of the Joint Chiefs of Staff, Major General Yusef Ahmed al-Hunaiti, visited today, Friday, the injured of the events of the Husseiniya area in Ma'an Governorate, who are lying on the recovery bed in the Hussein Medical City.
Al-Issawi and Major General Al-Hunaiti conveyed the wishes of King Abdullah II to the injured for a speedy recovery, and his directives to provide all forms of health care and treatment necessary for them.
They also conveyed the King's appreciation for the efforts and role played by the public security men in maintaining security and safety for the homeland and the citizen.
Al-Issawi and Al-Hunaiti, in the presence of the Director General of the Royal Medical Services, Brigadier General Doctor Youssef Jamal Zureikat, reassured the health status of the injured, and listened to an explanation from the medical staff supervising them about their health status.