In a strange and unique incident, the Egyptian security forces managed to seize the accused by publishing a promotional advertisement on social media for selling drugs, titled "Abu Kayan for all types of air conditioners."
The story began hours ago with the noise of the social networking site "Facebook" with a picture of an advertisement promoting the sale of drugs, in which it says "Ace, hashish, banjo and finance", wholesale and retail, with the address and phone numbers of the owner of the advertisement.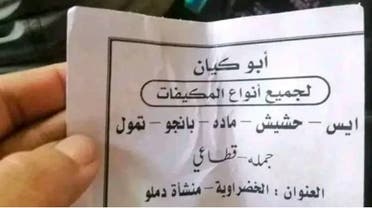 Advertising
risk register
The security services monitored the post, and the suspect in this incident was reached, and he was registered in danger, and his name was Abu Kayan, at his place of residence in the Quesna Center district of the Menoufia Governorate. The forces succeeded in arresting him in a border area between the governorates of Cairo and Qalyubia, between the cities of Quesna and Banha.
A security source reported the success of the Menoufia Security Directorate in arresting the accused of selling narcotic substances, after the spread of the advertisement paper on social media, and the use of modern technology and secret investigations to speed up the arrest of the accused, and after legalizing the procedures, a security force affiliated with the Investigation Unit of the Quesna Center succeeded in apprehending the accused.
Drugs and firearms
He was found in possession of 6 kilograms of hashish – a quantity of heroin – 2 kilograms of heroin – a shotgun and a number of bullets of the same caliber – a sum of money – a mobile phone – a number of paper publications of different sizes written on it "Abu Kayan for all types of air conditioners." Ice – Hashish – Substance – Banjo – Tamul).
Confronting him, he confessed to possessing the seized items with intent to trade, the firearm to protect his criminal activity, the sum of money from the proceeds of his criminal activity, and the mobile phone to contact his clients.
All necessary legal measures have been taken.