After statements attributed to his representative in Iran, Jawad al-Shahristani, in which he criticizes the ongoing protests since mid-September, not long after The murder of the young woman, Mahsa Amini, The office of the supreme religious authority in Iraq explained the ado.
In a press release on Thursday, he said:Mr. Sistani He does not have any agent expressing his political positions," according to what Al-Arabiya/Al-Hadath correspondent reported.
statements to his son-in-law
This clarification came after Al-Sisani's son-in-law and agent claimed yesterday, Wednesday, that the protests in Iran are "absolutely unpopular", and described the demonstrators as "a group of vile and bastards."
Shahristani also said in an interview with the director of the sisters' religious seminary: "These recent disturbances are not popular in any way, and these are a group of bastards who do not know where they come from and who is the enemy that directs them."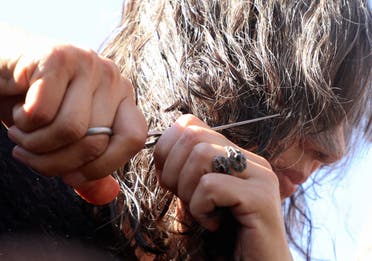 A protester cuts her hair in solidarity with Mahsa Amini – Archive from Reuters
In addition, he accused Western governments of "conspiring" against Iranian youth andespecially girls from an early age. He added that "students of religious sciences and sisters' seminaries" can play an important role in introducing young people to Islamic teachings.
It is noteworthy that since Amini's death on September 16, the protests in the country have not subsided. Her death, 3 days after her arrest at the hands of the religious police, sparked anger among young people over several issues, including restrictions on personal freedoms and strict rules regarding women's dress, as well as the living and economic crisis faced by Iranians, not to mention strict laws imposed by the regime and its political and religious structure in general.
Meanwhile, the security forces violently confronted the protesters, killing dozens of them, and arresting hundreds. The Human Rights Activists News Agency (Hrana) announced that 314 protesters were killed in the unrest, including 47 minors.
At least 14,170 people, including 392 students, were arrested in those protests that took place in 136 cities and towns and 134 universities.