In good news, the number of infections with "dracaenacosis" or what is known as "guinea worm" has recently decreased to a record level, which has raised hopes that it will soon become the second human disease to be eradicated in history, according to the British newspaper "The Guardian".
The number of recorded cases of the disease decreased to about 13 cases worldwide during 2022, according to the US-based Carter Medical Center.
While the newspaper indicated that the number is preliminary, and if confirmed, it will be the lowest ever recorded for the number of cases of the disease.
More than 4 decades
She also pointed out that this small number of cases, which is down from 15 cases recorded in the previous year, is the result of more than 4 decades of global efforts to eradicate the parasitic disease by mobilizing communities and improving the quality of drinking water in hotspots of infection.
If these efforts prove successful in the end, guinea worm disease will not only be the second disease in history to be eradicated, after smallpox, but also the first disease to be eradicated without a vaccine or medicine.
eradication in animals
It is noteworthy that in 1986, about 3.5 million cases were recorded in 21 countries in Africa and Asia. Today, the few registered cases are limited to Chad (6 cases), South Sudan (5 cases), Ethiopia (one case) and the Central African Republic (one case under investigation).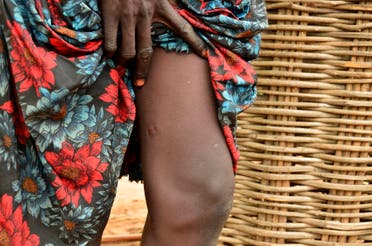 From South Sudan (archived from the Associated Press)
In order to announce the end of the "guinea worm", it must also be eliminated in animals, and here, too, the numbers go in the right direction, according to the newspaper. The Carter Center said animal infections fell by more than a fifth last year.
Stagnant water contaminated with parasite-carrying fleas
It is noteworthy that the disease is often transmitted when people drink stagnant water contaminated with parasite-carrying fleas, and rarely causes death. However, those affected are unable to function for weeks or months.
It also affects people who live in rural, disadvantaged and isolated communities and rely mainly on open, stagnant water sources such as ponds for drinking water.