In the presence of hundreds of residents of the village and neighboring villages, Al-Qanater Al-Khairiya, in Qalyubia Governorate, Egypt, mourned the funeral of the three brothers whom the villagers called "Birds of Paradise", after they died in a fire that broke out in their bedroom due to an electric short.
The people of the village bid farewell to the three siblings: Youssef Muhammad Awwad (16 years old), a student in the first secondary grade at the Al-Azhar Institute in Al-Qanater Al-Khairiya, and his sister Shorouq (12 years), a student in the second grade of preparatory school at Al-Azhar Al-Sharif Girls Institute in Al-Qanater Al-Khairiya, and their brother Awad (8 years), a student in The fourth grade of primary school at Al-Azhar Institute in Al-Qanater Al-Khairiya.
While the condolence of the three brothers, memorizers of the Holy Qur'an, continued, their father wept for them, repeating: "They died in each other's arms."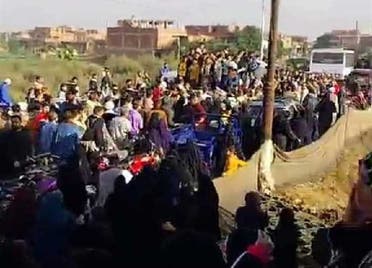 Funeral of the three Holy Quran memorizers
The newspaper "Al-Masry Al-Youm" quoted the father, Muhammad Awad Salem, as saying that he came to his house on the day of the incident at exactly 10:30 pm, and went to his bedroom, with his young son Hamza, while his three children slept in a separate room. He panicked at the screams of the people and those in the house because of a fire that started in the children's bedroom due to an electrical short circuit.
The father said: "I found Youssef not wanting to leave the room because of his sisters, and they also wanted to go out with him, and within minutes the children died and died," adding: "My eldest son died while he was cuddling his sister, and their third brother breathed his last on his bed, and the fire caught their bodies." .
The Qalyubia Security Directorate had received a notification of a fire in Sweissy's house in Qanater, and the presence of deaths in the fire. Fire engines were dispatched, the fire was brought under control, and the bodies were transported to the hospital.
The inspection showed that the fire broke out in the house of Muhammad Awad Salem, from Izbat Ayati, affiliated to the Qanater Charity Center and City, at dawn, and it was found that it was caused by an electric short circuit, and by examining the house, it was found that it was a house built with white bricks.