A street war is taking place between the Russian and Ukrainian forces in Solidar, and the front is raging along the line of contact in Donetsk, while British media reported that London intends to send British tanks to Ukraine for the first time since the start of the war.
"Sky News" quoted a Western source as saying that discussions have been underway "for a few weeks" about the delivery of the main battle tank of the British army "Challenger 2" to Ukraine.
On the ground, pro-Russian Donetsk separatists declared control over the town of Bakhmutsk, located near Solidar, northeast of Bakhmut.
The town is considered a strategic transportation hub to supply the Ukrainian forces in the Donbass, as a network of roads and railways passes through this city.
For its part, the Kremlin confirmed today, Monday, that the delivery of Western armored vehicles and other weapons to Ukraine, which was announced last week, will only "prolong the suffering of the Ukrainian people." And it "will not change" the balance of power.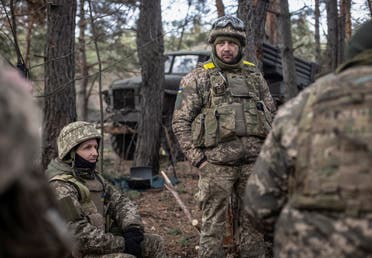 Ukrainian army on the front lines in Donetsk
Kremlin spokesman Dmitry Peskov told the press, "Fundamentally, deliveries (armor and weapons) cannot and will not change anything…The deliveries will only prolong the suffering of the Ukrainian people."
Last week, the United States and Germany announced its intention to deliver armored vehicles, while France said, for its part, that it had sent light tanks to Kyiv.
US President Joe Biden and German Chancellor Olaf Scholz confirmed their intention to Meet Ukraine's urgent needs To enhance air defense capabilities.
The United States said it would Additional security and defense assistance to Ukraine at a value of $3.075 billion.
In the same context, German Minister of Economy Robert Habeck told TV station yesterday that his country could not rule out the delivery of "Leopard" tanks, which are combat vehicles heavier than "Marder" vehicles, to support the Ukrainian armed forces in the future. "Of course, this cannot be ruled out," Habik said in an interview.
The comment comes two days after Germany said it wanted to deliver about 40 Marder infantry fighting vehicles to Ukraine before the end of March, a decision Habeck said was well and long overdue.