while you communicate Angry protests in IranVideo recordings showed the continuation of protests in the cities of Sanandaj and Saqqaz in the Kurdistan Province, Mahabad and Bukan in West Azerbaijan, in the west of the country, according to the Hengau Kurdish Human Rights Organization.
The website "Iran International" also reported the launch of a night demonstration in the city of Sanandaj, the center of Kurdistan province.
In addition, a video clip from Tehran showed that protesters attacked the headquarters of the Basij in the "Saadatabad" area, north of the Iranian capital, using Molotov cocktails.
Earlier today, other cities in Sistan and Baluchistan witnessed protests, and hundreds of demonstrators took to the streets, chanting anti-regime slogans including Supreme Leader Ali Khamenei.
In the city of Khash, a number of protesters dropped a banner bearing the name of Qassem Soleimani on a street in the city, and trampled on it with their feet, chanting slogans against Soleimani and the Revolutionary Guards.
Iran has witnessed protests in separate areas since last September, following the killing of the young woman, Mahsa Amini, after she was arrested by the religious police.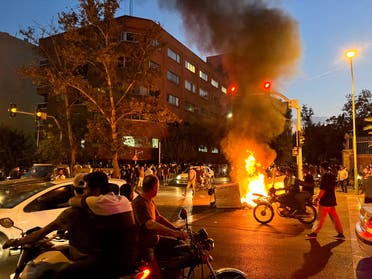 Protests in Tehran condemning the death of Mahsa Amini (Archive – Reuters)
Her death has since fueled anger over several issues, including restrictions on personal liberties and strict rules regarding women's dress, as well as the living and economic crisis facing Iranians, not to mention the strict laws imposed by the regime and its political and religious makeup in general.
Meanwhile, the security forces violently confronted the protesters, killing hundreds of them. The Human Rights Activists News Agency "Hrana" announced that 314 protesters were killed in the unrest, including 47 minors.
At least 14,170 people, including 392 students, were arrested in those protests that took place in 136 cities and towns and 134 universities.