Anger spread again in western Iran, and continues for a series of events That has not calmed down in the country since mid-September, denouncing the killing of the Kurdish young woman Mahsa Amini.
A number of demonstrators took to the streets in the Kurdish city of Mariwan, today, Sunday, to protest the killing of Nasreen Qadri, chanting 'Death to Khamenei' Death to the dictator.
The demonstrators also closed a number of streets in the town.
Reply with live bullets
While the security forces responded to the demonstrators with live bullets, according to the "Iran International" network.
In addition, schoolgirls in the region set fire to the Iranian flag, and chanted "Woman, life, freedom" on the day of the burial of Qadri, who died after being beaten with batons by the security forces during the protest.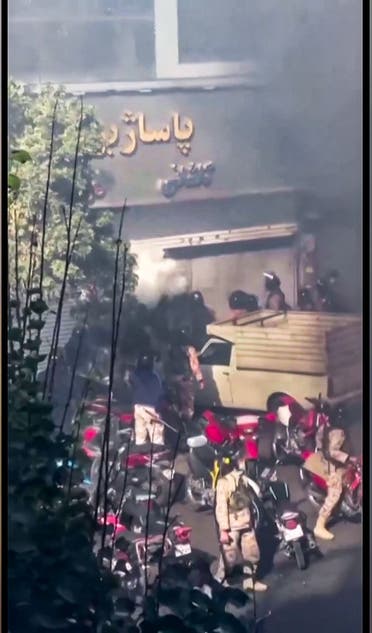 From the arrest and prosecution of security for protesters in Tehran (Archive – AFP)
Simultaneously, a number of students from Sheikh Bahai University in Isfahan, in the center of the country, gathered on the campus, chanting against the regime, the Revolutionary Guards and the Basij, which, over the past weeks, have practiced the harshest methods of repression against the protesters.
These developments came, while the country is expected to witness, this evening as well, other demonstrations, in response to calls made by the youth of the neighborhoods of Tehran, Lorestan and Tabriz.
It is noteworthy that since the murder of Amini on September 16 (2022), three days after her arrest by the morality police, the protests in the country have not subsided.
314 protesters were killed
Her death has since fueled anger over several issues, including restrictions on personal liberties and strict rules regarding women's dress, as well as the living and economic crisis facing Iranians, not to mention the strict laws imposed by the regime and its political and religious makeup in general.
Meanwhile, the security forces violently confronted the protesters, killing dozens of them, and arresting hundreds. The Human Rights Activists News Agency (Hrana) announced that 314 protesters had been killed in the unrest as of Friday, including 47 minors.
At least 14,170 people, including 392 students, were arrested in those protests that took place in 136 cities and towns and 134 universities.