The Russian presidency confirmed today, Monday, that "the Ukrainian people will pay the price for supplying Ukraine with tanks," amid Western deliberations over the supply of heavy weapons to Kyiv.
The Kremlin warned of the consequences of such a step, saying that "all countries that deliver weapons to Ukraine must bear responsibility." In another context, the Kremlin confirmed that "there are no conditions for negotiations with Ukraine."
For its part, the Russian Foreign Ministry confirmed today that "the escalation in Ukraine is a dangerous path, and it could have unexpected consequences."
Russian Deputy Foreign Minister Sergei Ryabkov warned of "the possibility of providing Kyiv with Atakms", which are surface-to-surface missiles.
He hinted that "Washington's statements about the possibility of supplying long-range missiles to Kyiv are part of psychological warfare."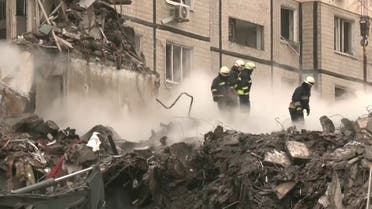 Previous bombing of Kyiv
Ryabkov threatened that Western aid to Kyiv would be "literally crushed".
Russia's deputy foreign minister said, "Russia's opponents continue to raise the levels of escalation over Ukraine."
On the path of diplomacy, Ryabkov revealed that "the new US ambassador to Moscow will arrive in Russia in the coming days."
He explained that "the Russian Foreign Ministry will continue to discuss tense issues in Russian-American relations with the new US ambassador."
On the ground, the Ukrainian News Agency reported, on Monday, that Ukrainian Armed Forces It repelled hostile attacks near 11 residential communities in two regions, and launched 7 strikes on Russian sites.
The agency quoted the General Staff of the Armed Forces of Ukraine as saying that military units repelled attacks in the Donetsk region during the past 24 hours.