after being kidnapped The mother of the Moroccan player Sofiane Boufal Attention in the Qatar World Cup, social media reported her death in the Moroccan city of Taza during the last hours, which necessitated an immediate response from her children to clarify the truth of this.
Two of Boufal's siblings denied the rumor of their mother's death through their "Instagram" account, and published a picture that read, "Praise be to God, she is fine … and thank you for your messages."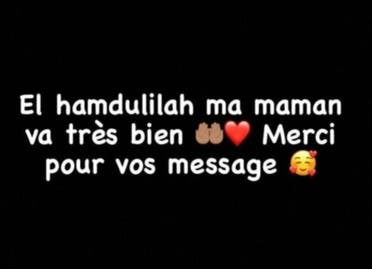 The publication of the sons of Sofiane Boufal's mother, according to what was published by Moroccan media
This came to deny the rumors about their missing mother The reception received by the players of the Moroccan national football team And their mothers by King Mohammed VI at the royal palace in Rabat, after reaching the semi-finals of the World Cup organized in Qatar.
In addition, informed sources indicated that the mother of the Moroccan international player, Sofiane Boufal, arrived in Paris from the Qatari capital, Doha, after the success of the surgery she performed, denying the news of her death altogether, according to what was reported by the newspaper "Hespress".
Boufal's mother gained wide fame after the Moroccan national team's participation in the Qatar 2022 World Cup, where photos and short video clips appeared on the field with Boufal after the Moroccan national team's brilliance and reaching the World Cup semi-finals last week.
Morocco achieved fourth place in the World Cup finals in Qatar, to be received by thousands inside and outside the airport after returning to the country with great joy.
The relationship between the Moroccan national football team players and their mothers has also turned into a global story in the stands of the 2022 World Cup stadiums in Qatar.