announce US Secretary of State Anthony Blinken, after his meeting in Ramallah, today, Tuesday, with Palestinian President Mahmoud Abbas, that "US President Joe Biden is committed to the two-state solution."
Blinken stated, "America opposes any steps that undermine the two-state solution, such as expanding settlements and demolishing homes."
He continued, "We do not accept taking unilateral steps that make the two-state solution further from what it is today."
He stressed the need to "take steps to reduce escalation," adding that "the horizon of hope for the Palestinians is shrinking, and change must occur."
He added, "We must make sure that the tension between the Palestinians and the Israelis is defused. I have heard deep concerns from the Palestinians and the Israelis about continuing the current course."
The US Secretary of State expressed regret over the killing of innocent Palestinians during the past few days.
Although Blinken said that "America wants to consolidate relations with the Palestinian Authority and the Palestinian people," he revealed Washington's intention to work to "open the American consulate in East Jerusalem."
Blinken also pledged $50 million to the Palestinian Authority, and revealed that an agreement had been reached to provide fourth-generation internet services to the Palestinians.
Blinken: We will not allow an Iranian nuclear peace
On the Iranian file, Blinken said: "America and Israel are committed to preventing Iran from reaching a nuclear weapon."
He stated that he discussed during his Middle East tour "confronting Iran's destabilizing activities in the region."
He expressed the US administration's concern about "military exchanges between Iran and Russia."
On Tuesday afternoon, Abbas met in Ramallah with the directors of the Egyptian intelligence, Abbas Kamel, and the Jordanian, Ahmed Hatuqai, ​​to coordinate prior to the meeting with Blinken.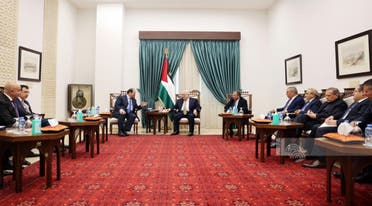 Abbas's meeting with the Egyptian and Jordanian intelligence directors
Earlier, Blinken said he had a fruitful meeting with his Israeli counterpart, Eli Cohen.
Blinken stated that he discussed with Cohen ways to strengthen bilateral relations and the need to calm the situation in the West Bank.
Blinken had visited Israel, on Monday, and urged the Palestinian and Israeli sides to take steps to ease the recent escalation and tension.
"It is everyone's responsibility to take steps to calm tensions rather than exacerbate them," Blinken said, according to Reuters.
The US Secretary of State also discussed with Egyptian President Abdel Fattah El-Sisi in Cairo "reducing tension", before heading to Jerusalem and Ramallah.
In turn, US State Department spokesman Ned Price said that they "discussed the ongoing efforts to reduce tensions between Israelis and Palestinians," stressing Cairo's "important" role in "promoting regional stability."
It is noteworthy that in the wake of the recent attacks, the government of Benjamin Netanyahu, the most right-wing in the history of Israel, announced measures aimed at punishing the relatives of the perpetrators of the attacks.