Confirming the statements of Polish President Andrzej Duda, US President Joe Biden said today, Wednesday, in a brief speech to reporters in Bali, that it was "unlikely" that the missile that fell in Poland was launched from Russia.
Biden's speech came after the White House reported that the US president and other leaders of the Group of Seven countries will hold an "emergency" meeting on Wednesday to discuss The missile strike that targeted a Polish area near the border with Ukraine.
"The Round Table"
The White House added that the "round table" is scheduled to be held shortly with the participation of Britain, Canada, France, Germany, Italy, Japan and the United States in Bali, where the leaders of these countries are attending the summit of the Group of Twenty major economies in the world.
This emergency summit came after Polish President Andrzej Duda spoke to the US president, who pledged to send "American experts to help investigate the site of this tragic accident."
"Probably Russian made"
Simultaneously, the Polish president confirmed that there was no clear evidence of the identity of the party that fired the missile that killed two people in a Polish town on Tuesday, but indicated that the missile was "most likely Russian-made."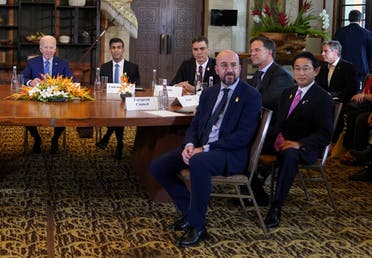 Biden and allies at the G20 summit
Duda said in a press conference, "We do not have, at the present time, conclusive evidence on the identity of the party that fired the missile. There is an ongoing investigation. The missile is most likely Russian-made."
"detailed explanations"
The Polish Foreign Ministry announced that the missile that fell in Poland was Russian-made, and that it had summoned the Russian ambassador to Warsaw to provide "immediate, detailed explanations."
For its part, Ukraine blamed Russia, which on Tuesday launched a wave of missile strikes targeting all parts of Ukraine and left millions of homes without electricity.
Activate Article Four
The Polish president said it was "very likely" that Poland's delegate to NATO would request urgent consultations under Article 4 of the NATO Charter, during a meeting with delegates from other NATO countries in Brussels on Wednesday.
Article 4 states that consultations can be called when any member of NATO feels that its "territorial integrity, political independence or security" is endangered.