During the year 1950, Brazil hosted the fourth edition of the FIFA World Cup. After a hiatus that lasted for more than 10 years due to the Second World War that broke out on September 1, 1939, FIFA agreed to grant Brazil the honor of hosting this tournament, which was won by Uruguay.
In addition, this edition of the FIFA World Cup witnessed a strange incident. With its qualification for the finals, the Indian national team preferred to withdraw, refusing to travel to Brazil for reasons that are not clear.
Playing without shoes in the Olympic Games
During the Summer Olympics held in London in 1948, the India national football team surprised the audience by presenting a wonderful football performance against the French team, which eventually won 2-1. Compared to the rest of the players participating in this tournament, the Indian players did not wear shoes as they preferred to play barefoot. In some eyes, some of them simply wore socks to avoid falling while running on the field.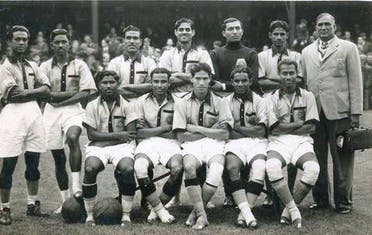 Indian Olympic team in 1948
Since its independence, the 1948 Summer Olympics were the first international sports competition in which India participated. Because of their participation in the barefoot interview, the players of the India national football team attracted the attention of the international media, which often linked the matter to the spread of poverty in the country and the people's habit of playing the ball without shoes.
Before the start of the World Cup in Brazil in 1950, FIFA wrote to the Indian Football League and assured them that its players could not participate in the matches without shoes.
Sudden withdrawal
And in the 1950 World Cup, FIFA decided to call Italy, the defending champion, and Brazil, the hosts, to participate automatically. It also invited seven teams from Europe, six others from the American continent, and one Asian team.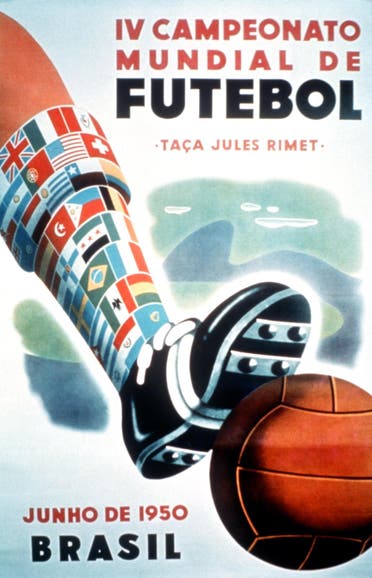 1950 Brazil World Cup logo
In Asia, FIFA ordered India, the Philippines, Indonesia and Burma to go through qualifiers to determine the qualifiers. With the apology of the Philippines, Indonesia and Burma for not participating, India qualified automatically for the 1950 Brazil Finals. Meanwhile, the draw put India in one group with Italy, Paraguay and Sweden.
In addition to Turkey, which apologized for participating in the 1950 World Cup due to the exorbitant travel costs to Brazil, India, the only Asian team in the tournament, announced its sudden withdrawal. To justify its position, the Indian Football League spoke about its inability to afford travel, stressing that it would prefer to focus more on the upcoming Summer Olympics.
In addition, many questioned this Indian novel. In the following period, FIFA asked India to participate and announced its willingness to bear the costs of the Indian national team's travel.
And with India refusing to send its players to Brazil, many talked about the Indian Football League taking this step because of the alert it received from FIFA about the issue of barefoot players and shoes.