Today, Tuesday, Turkish security arrested a Syrian, who said his name was Ammar Jarkas, and described him as the mastermind of the bombing that last Sunday afternoon killed 6 people and wounded 81 others on Istiklal Street branching from Taksim Square in the city center, according to local media, quoting the authorities. , with the news that she said he was trying to flee to Bulgaria, but his arrest happened before he succeeded.
Among the information contained in the Turkish media about Jarkas, published above, is a main picture of his arrest, published by Al-Arabiya.net, quoting the website of the local newspaper Haberyum, that he entered Turkey a year ago, and that he is the important man for the organization, and his arrest took place after a phone call was monitored in Qamishli. In it, the speaker asked to kill the bomb planter, Ahlam al-Bashir, to cut off the path of the investigators and thwart their access to him, but the police arrested her, and then arrested 48 others, suspected of helping her.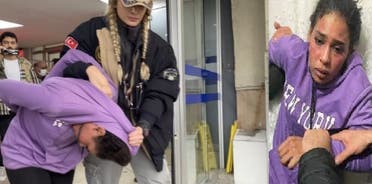 Al-Bashir when she was arrested and taken to a police detention center in Istanbul on Monday
Turkey's efforts to arrest him are still lacking, and he is a person who was referred to as "Bilal" only, and the "Hurriyet" newspaper, which is close to the government, reported today that he entered with her 4 months ago from Syria to Turkey, and he was the one who accompanied her and gave her the device she was trained to detonate. An investigation team formed by the Security Directorate discovered that she had placed her under a pot of plants in the street before her escape, which Al-Arabiya.net singled out today for special news, attached to a video in which she appeared running away before the explosive device she planted exploded.
Hurriyet added a new report, summarizing that Al-Bashir, 23, reached the end of Istiklal Street by escaping, then took a taxi that took her to the Esenler area, but the police, who followed up her escape by reviewing 1,200 public surveillance cameras, discovered that she had taken refuge in the "Koguk Chakmaha" area. So, they arrested her in an apartment in it, and by interrogating her, the investigators learned that "Bilal" had conducted a reconnaissance operation with her over the course of 3 days on Istiklal Street, in an unlicensed taxi, and they always pretended that they were a man and his wife working in a textile factory.