Syrian President Bashar al-Assad considered Thursday, according to a statement issued by the presidency, that the Syrian-Turkish meetings under the auspices of Russia must be based on ending the Turkish military presence, "in order for them to be fruitful," in his first comment on the rapprochement between the two countries after an 11-year break.
Earlier today, Thursday, Turkish Foreign Minister Mevlut Cavusoglu said that he might meet his Syrian counterpart, Faisal al-Miqdad, in early February, denying reports that they might meet next week.
Cavusoglu said, "We said before that there are some proposals for a meeting next week, but they do not suit us. It may be at the beginning of February, and we are working on setting a date."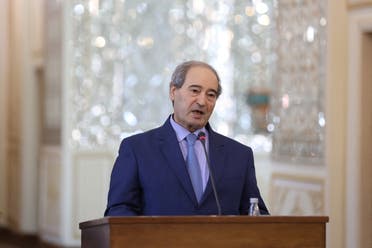 Syrian Foreign Minister Faisal Mekdad
The foreign ministers of the two countries had a brief informal conversation on the sidelines of a regional summit held in 2021.
It is noteworthy that the Russian Ministry of Defense had announced last month that Russian Defense Minister Sergei Shoigu, Turkish Defense Minister Hulusi Akar, and Syrian Ali Mahmoud Abbas held tripartite talks in Moscow to discuss ways to resolve the Syrian crisis, and the necessity Continue dialogue to achieve stability in Damascus.
It stated in a statement that Tripartite talks between defense ministers Russia, Syria and Turkey held a meeting in Moscow last December 28, during which they discussed ways to solve the Syrian crisis, the refugee problem, and joint efforts to combat extremist groups in Syria.
This is the first official meeting at the ministerial level between Turkey and Syria since the outbreak of the Syrian crisis in 2011And the resulting tension in relations between Ankara and Damascus.