From the heart of a box sunk in a shipwreck from 1857 off the coast of North Carolina, the "oldest pair of jeans" has been pulled and sold for more than $100,000.
Researchers confirmed that the captured pants are the oldest known jeans so far, and they actually sold for $114,000 at auction.
Million dollars
It is also among 270 Gold Rush-era artifacts that sold for a total of nearly $1 million in Reno earlier this month, according to Holabird Western Americans, according to the Guardian.
The researchers point out that there is disagreement about whether the expensive pants have anything to do with modern blue jeans, as it predates by 16 years the first pair officially manufactured by the San Francisco-based Levi Strauss & Co. in 1873, or not, as some say that Historical evidence points to links with Strauss, who was a wealthy wholesaler of commodities at the time, and the pants could also be a very early version of what would later become famous jeans.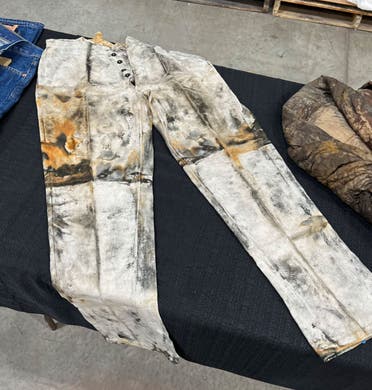 However, company historian and archive director Tracy Pannick says any claims about the jeans' origin are "speculation".
for the first time
The pants were made before the SS Central America sank in a hurricane on September 12, 1857, packed with passengers who had started their journey in San Francisco and were on their way to New York via Panama.
Tens of millions of dollars' worth of gold have been sold since the shipwreck's recovery began in 1988.
However, on December 3, it was the first time that any artifact had reached the auction.