Today, Monday, an Ethiopian official described the issue of the Renaissance Dam as a "matter of existence" for his country, which seeks to complete the construction of the dam within "two and a half years."
"Diplomatic efforts have been made to show that the issue of the Grand Ethiopian Renaissance Dam is a matter of existence," said Ambassador Ibrahim Idris, Adviser for Border Affairs and Cross-border Resources at the Ministry of Foreign Affairs, according to what was reported by the official Ethiopian News Agency.
A few days ago, Egyptian President Abdel Fattah El-Sisi sent a request to the United States of America, To help put pressure on Ethiopia to reach an agreement on the Grand Ethiopian Renaissance Damwhich Cairo considers an "existential threat", during his visit to America to attend the American-African summit.
Al-Sisi raised the Grand Ethiopian Renaissance Dam file with US Secretary of State Anthony Blinken, and considered the issue "very vital and existential for Egypt."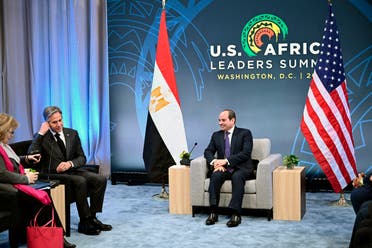 From meeting Sisi and Blinken
"This is a very vital and existential issue for us," Sisi told the US secretary. "We thank the United States for its support and interest." He added, "A legally binding agreement can achieve a good thing in accordance with international norms and norms. We are not asking for anything else." "We need your support in this matter," he added.
On the other hand, the US Secretary of State affirmed that "reaching a diplomatic solution to the issue of the Renaissance Dam would protect the interests of all parties," stressing his country's commitment to the strategic partnership between the United States and Egypt.
Cairo believes that the dam will affect its share of the Nile River water, which threatens its national security, as Egypt depends on the Nile water by 97% for irrigation and drinking water.
However, Ethiopia believes that the Renaissance Dam will contribute to the development process in the country, and says that it is exercising what it describes as its "legitimate right" to benefit from the Nile River.
The dam on the Nile, which is worth $4.2 billion and will be the largest in Africa, is a source of intense tension between Ethiopia and Egypt, as well as Sudan.
Ethiopian Prime Minister Abiy Ahmed had promised to continue talks on the dam, but went ahead with the plan to fill and operate the first turbines.
The administration of former US President Donald Trump sought mediation and a solution and cut off aid to Ethiopia, after accusing Addis Ababa of not dealing in good faith in this file.