The name of the Egyptian artist, Yasser Jalal, topped the search engines on social networking sites in Egypt and Google during the past few hours, after he donated 3 million pounds to the Long Live Egypt Fund in support of his country during the economic crisis it is currently going through.
And the artist, Yasser Jalal, who embodied the character of Egyptian President Abdel Fattah El-Sisi in the third part of the series "The Choice", announced his donation to the Long Live Egypt Fund in the amount of 3 million pounds.
The artist said in an audio recording broadcast on the communication sites that the reason that prompted him to donate was the crisis that Egypt is currently going through, adding that he did so with a personal motive from him and without a request from anyone, especially since he is not a seducer of fame and stardom.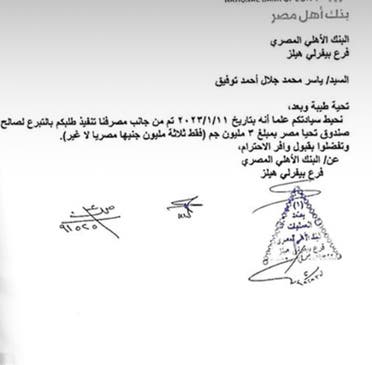 image for donation
He pointed out that Egypt and the whole world are going through a major crisis, and it will not pass except with the solidarity of all, calling on his colleagues to donate and repeat what he did.
In the first reaction from his colleagues in the artistic community, the artist, Randa Al-Buhairi, on her personal page on the social networking site Facebook, praised Jalal's position, and said that what he did would set an example for others, and she is the first of them to donate to their country, thanking him.
It is noteworthy that Egypt is going through an economic crisis that called on the authorities to liberalize the exchange rate, which led to the price of the dollar reaching the equivalent of 30 Egyptian pounds, and this was accompanied by a wave of high prices and a rise in the prices of some goods and services.
And Yasser Jalal had participated in the last Ramadan race by playing the starring role in the series "The Choice", in which he embodied the personality of President Abdel Fattah El-Sisi.
The series dealt with the events of the Brotherhood's rule period until the outbreak of the June 30 revolution of the year 2013 that overthrew them. It was written by Hani Sarhan, directed by Peter Mimi, and starring: Ahmed El Sakka, Karim Abdel Aziz, Ahmed Ezz, Khaled El Sawy, Sabri Fawaz, Bayoumi. Fouad, Abd al-Aziz Makhyoun, Jamal Suleiman, Nadia Rashad, Muhammad Riyad, Hisham Ismail, Mahmoud al-Bazawi.