The Republican minority leader in the US Senate, Mitch McConnell, escalated his attacks on the former president Donald Trump With Trump's support declining in recent polls.
The Senate GOP leader blamed Trump for the "quality of candidates" problem that impeded the party's attempt to regain the Senate in 2022, the third time in three weeks that McConnell has criticized the former president directly after he repeatedly avoided contact with him the past two years.
The attack comes as opinion polls show Trump's support slipping among Republican voters, a trend that has accelerated since Trump-aligned candidates lost important races across the country in the midterm elections.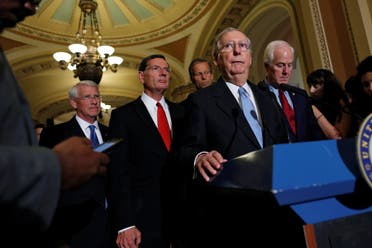 Mitch McConnell
A USA Today/Suffolk University poll released Tuesday showed that 61 percent of Republican and Republican-leaning voters want someone else to be the party's nominee for president in 2024.
The poll also showed Republican voters favor Florida Governor Ron DeSantis over Trump as a possible presidential candidate, by a margin of 56 percent to 33 percent.
And with Trump "leaking these polls," in the words of one Republican senator, McConnell is wasting no time responding to Trump, who has repeatedly called for his ouster as the Republican leader in the Senate.
McConnell told reporters that Trump was a big reason why Senate GOP leaders couldn't direct Senate support to stronger candidates in key states like Arizona, Georgia and New Hampshire.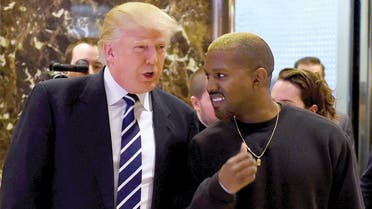 Trump with rapper Kanye
He had hinted at a press conference a week after Election Day that he believed Trump was a burden on Republican efforts to take back the Senate, but he made his criticism clear after Republicans lost another key race, in last week's Senate runoff in Georgia.
"We ended up having a problem with the quality of the candidate. Look at Arizona, New Hampshire and the difficult situation in Georgia as well," he told reporters on Capitol Hill.
But he argued that Trump's influence over primary voters has made it very difficult to weed out vulnerable candidates who have secured Trump's support or embraced his claims of stealing the 2020 election.
"Our ability to control the primary outcome was very limited in '22 '20 because the support of the former president proved so crucial in this primaries. Hopefully in the next cycle we'll have good candidates all around and better results," McConnell said.
McConnell also attacked Trump in the past two weeks when he criticized Trump's call to suspend the Constitution to allow himself to return to the White House, and condemned Trump's dinner at his Florida resort with a white supremacist and anti-Semite.
The leader's hard-line rhetoric against the former president reflects the growing consensus within the Senate Republican convention that Trump will not compete well with President Biden or another Democrat in the 2024 general election and, if nominated for the White House, could result in losing Senate candidates.
His legal troubles escalated
McConnell questioned Trump's ability to win the presidency after he dined with Ye, the artist formerly known as Kanye West, who lost business partnerships after he made a string of anti-Semitic comments, and Nick Fuentes, a prominent white supremacist and anti-Semite.
On the other hand, Trump's legal troubles are escalating, and Republican lawmakers believe there is a good chance that Special Counsel Jack Smith will move forward with one or more indictments against Trump.
The Justice Department has asked a federal judge to try Trump in contempt of court for failing to comply with a subpoena and turn over classified documents he took from the White House.
The Trump family business was found guilty last week of 17 criminal counts related to what prosecutors said was a 15-year tax fraud scheme.