Senior US officials are pushing Kyiv to start thinking about peace talks if they stop Battle Momentum In the winter, and especially after Ukraine regained control of Kherson, one of its most stunning victories in the war.
The onset of the impending winter, along with fears of inflation caused by rising energy and food prices, billions of dollars in weapons already pumped into Ukraine, and tens of thousands of casualties on both sides, has led to talk in Washington of a possible turn in the war, now in its month. ix.
The United States and its allies pledge to continue supporting Ukraine, but senior officials in Washington are wondering aloud what territory either side can gain and at what cost.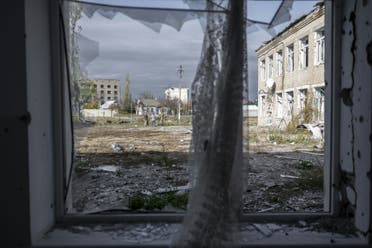 From Kherson (archive from AFP)
Meanwhile, some European officials appear more optimistic about Ukraine's prospects.
There has to be a mutual recognition that military victory, in the truest sense of the word, probably cannot be achieved through military means, so we need to resort to other means," said US General Mark Milley, chairman of the Joint Chiefs of Staff.
The prospect of Ukraine not making significant battlefield gains in the coming weeks has led the United States and some European officials to talk about the beginning of public pressure to demand a settlement.
"We tell the Ukrainians it's up to them to decide when to do it," a Western European official said, suggesting talks could take place, but "it might be a good idea to do it sooner," as he put it.
For their part, US officials do not believe that now is the right time, but many believe that the coming weeks and months provide an opportunity to talk about negotiations.
The United States and some of its allies worry that their stockpiles are being depleted at an unsustainable rate. US military support to Ukraine this year amounted to nearly $19 billion, far outstripping European aid.
Another Western official added: "We are seeing real and practical problems in making military progress, and we are seeing a shortage of ammunition."
On the same day that General Milley spoke of an opportunity for talks, US President Joe Biden also suggested that the time might soon be right for negotiations.
According to the Wall Street Journal, Washington has made it clear to Ukraine that it must appear open to a negotiated solution.
Biden's national security adviser, Jake Sullivan, relayed that message to Ukrainian President Volodymyr Zelensky and his aides in Kyiv last week, suggesting Kyiv would gain leverage by showing openness to negotiations, according to people familiar with the discussions.
"Our job is to get them (Ukraine) in the best position on the battlefield, as well as at the negotiating table when diplomacy has an opportunity," Sullivan said, last Thursday. "The United States is not putting pressure on Ukraine," Sullivan said.