confirmed the Ukrainian president Volodymyr ZelenskyWednesday, in a historic speech he delivered in Washington before the US Congress, that the assistance provided by the United States to his country to confront the Russian invasion is "not charity" but rather an "investment" in global security.
"I want to thank you, thank you very much, for the financial assistance that you have given us and that you may decide" to provide later, Zelensky said, addressing members of Congress in both chambers, stressing that "your money is not charity, it is an investment in global security and democracy, and we manage it in the most responsible way."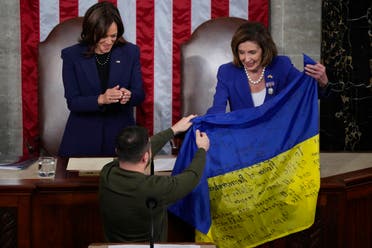 Zelensky presented the US Congress with a Ukrainian flag he had brought with him from the battlefield
Zelensky assured members of Congress that Europe is more powerful, and Russia has failed to subjugate Ukraine, stressing that Ukraine will continue the battle until victory is achieved.
On Wednesday, Ukrainian President Volodymyr Zelensky presented the US Congress, at the end of a historic speech he delivered in the Capitol, with a Ukrainian flag that he brought with him from the battlefield.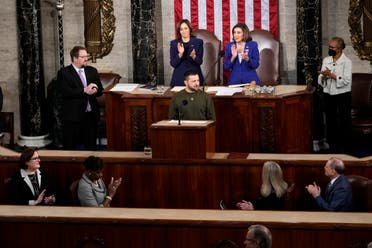 Zelensky in Congress
Zelensky told members of Congress in both chambers that this flag is a gift from the Ukrainian military who are fighting on the front line in Bakhmut, the city he visited on Tuesday, on the eve of his first trip abroad since Russian forces began their operation in his country on February 24.
And US President Joe Biden announced, on Wednesday, during his meeting with his Ukrainian counterpart Volodymyr Zelensky at the White House, that the United States "will continue to strengthen Ukraine's ability to defend itself, especially (at the level of) air defense," while Zelensky thanked him for the "strong support."
And while receiving his guest in the Oval Office, on the first foreign visit by the Ukrainian president since the Russian military operation on his country in February, Biden also assured him that he supports Kyiv's aspiration for a "just peace."
He said that the Ukrainian people remain "an inspiration to the world."
Biden considered that Russian President Vladimir Putin is using "winter as a weapon" against civilians by targeting electricity and water networks.
"Thank you from our ordinary compatriots to your ordinary compatriots, the Americans," said the Ukrainian president, who wore as usual military trousers and a T-shirt with heavy boots.
He expressed to Biden "gratitude from the bottom of my heart" for Washington's role in confronting the Russian military operation in Ukraine.
During Zelensky's visit, Washington announced a new package of military assistance that includes, in particular, the Patriot air defense system.
And the Ukrainian president delivered a speech before the US Congress, which is preparing to vote on new aid to Ukraine worth about $ 45 billion.
US Secretary of State Anthony Blinken stated that "the United States will provide Patriot air defense systems to Ukraine for the first time," and Blinken revealed, "the allocation of $850 million in security aid to Ukraine, and $1 billion for the development of air defenses."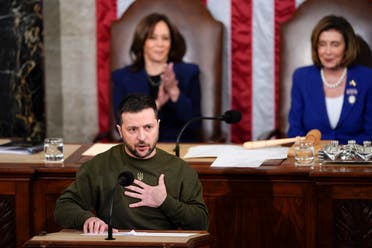 Zelensky in Congress