"What brought luxury cars belonging to Sudanese officials to Turkey?", a question that has been preoccupied with social media during the past hours, after pictures of vehicles said to be hidden in an abandoned farm in the Turkish city of Kars spread.
The comments attached to the circulated pictures added that these luxury cars belonged to leaders in the former Sudanese government.
It also confirmed that it was found hidden in Turkey, at a time when the Sudanese authorities are working to confiscate companies, real estate and property belonging to the era of the former regime and its aides, valued at billions.
3D designs
While the pictures spread like wildfire through social media, it turned out that they were just digital designs published by an Italian artist on his Instagram account, which are pictures of luxury cars covered in thick dust.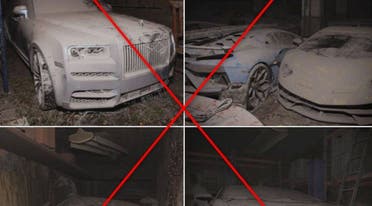 The research indicated that the photos were published on a website specialized in car affairs, with a comment: "Art designs bearing the signature of an Italian designer, not real photos," according to Agence France-Presse.
difficult economic situation
It is noteworthy that since the overthrow of Omar al-Bashir, who ruled Sudan for three decades in 2019, the Sudanese authorities have confiscated billions of companies, real estate and property of the former president and his aides.
While Sudan is witnessing a catastrophic economic situation, characterized by inflation of more than 100% and food shortages, a third of the 45 million Sudanese are suffering from hunger, according to the World Food Program.