Berlin Brandenburg Airport said on Thursday it had closed its runways after several people illegally entered them, while a climate change group said its activists had barricaded themselves to the runway.
The environmental group (Last Generation), or "Last Generation", said the activists called on people to stop traveling by air, and also called on the government to stop subsidizing this type of travel.
For its part, Berlin police wrote on Twitter, saying, "In an area of ​​the airport that is not open to the public, we found several people who had previously managed to enter illegally, and some stuck themselves" to the ground.
An airport spokesman said police had arrested the activists but the runways were closed so staff could check there were no other people.
The spokesman could not specify the number of flights that were damaged, according to Reuters.
previous accidents
In a similar incident, on the sixth of this month, climate activists stormed the runways and stopped planes before take-off at Schiphol Airport in the Dutch capital, Amsterdam, to denounce the effects of air emissions.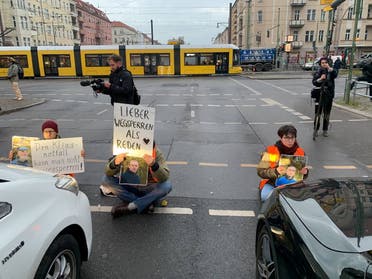 Climate activists storm Berlin airport (Reuters)
Climate activist groups have staged a series of similar protests in recent weeks, with activists trying to stick themselves to the glass covering Girl with a Pearl Earring and others throwing soup at Van Gogh's "The Sower" in Rome and one of his sunflowers in London. These two works were also covered.