After the French Football Federation announced, yesterday, Saturday, that striker Karim Benzema was excluded from his country's squad for the World Cup in Qatar, after he suffered an injury during training, the star broke his silence.
The famous French national team player, who is of Algerian origin, commented on the decision through his Instagram account, stressing that he usually never gives up, but this time he had to show the interest of the club first.
He said, "In my life I have never given up, but tonight I have to think about the team as I always do, so the reasons tell me to leave my place for someone who can help our team achieve a wonderful World Cup .. Thank you for all the messages of support."
overwhelming grief
While France coach Didier Deschamps announced his sadness at what happened, saying: "I am very sad for Karim, who made the World Cup a great goal for him."
He expressed his confidence in the national team despite this new blow that it had received, stressing: "We will do our best to face the huge challenge that awaits us."
This media came after the French Federation published, through its official Twitter account, announcing the exclusion of Karim Benzema from the World Cup.
He confirmed that the decision came after confirming that the player had a muscle injury in the left thigh, and for this reason it was decided to officially exclude him from participating in the World Cup.
Great performance will be missed
It is noteworthy that the Golden Ball winner, who suffers from a muscle problem, had to leave France, the defending champions, earlier in the day because of the injury.
Benzema performed admirably with Real Madrid last season, scoring 44 goals in 46 games in all competitions to help the team achieve the double in La Liga and the Champions League.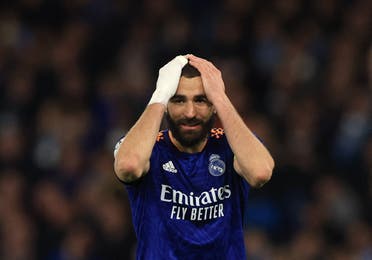 He was also the top scorer for France in the 2014 World Cup, but he was not part of the team's victory in the 2018 edition, after he returned to the French national team only last year after an absence of 6 years.
France, who will already be without Paul Pogba and N'Golo Kante as well as Christopher Nkunku due to injury, will open their Group D campaign against Australia on Tuesday.