A source in Al-Dabaiba's government denied, in exclusive statements to Al-Arabiya, that Abdullah Al-Senussi – director of intelligence during the era of the late Colonel Muammar Gaddafi – was handed over to the United States of America, to be tried in the "Lockerbie" bombing, stressing that he has been in prison in the capital, Tripoli, since 2012.
And the Senussi family and those close to him had confirmed that they had not been able to communicate with him in the past period, and that there were leaks that had reached them from inside the Maitika base in the capital, Tripoli, which is controlled by the deterrence militia led by Abdul Raouf Kara and in which Senussi is being held, that he had been handed over according to an American request to the government of Al-Dabaiba. And within the framework of judicial cooperation between the two countries, and that announcing this is a matter of time.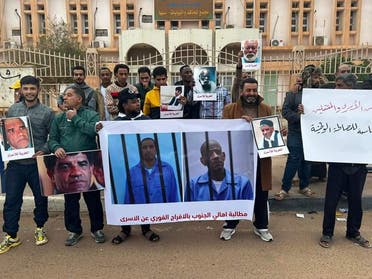 From a vigil demanding the release of Senussi
Weeks ago, with the return of the Lockerbie case to the fore and the start of the trial of Abu Ajila Masoud al-Marimi, one of the suspects in this incident before the American judiciary after he was handed over from the Tripoli government, the Fezzan tribes to which Senussi and his family belong are leading pressures for his release, amid fears that Senussi will suffer the same This fate will be the next target, and he is the one whose name was mentioned in the investigations related to the incident.
In 2015, the United States and Scotland named Abu Ajila Masoud al-Marimi and Abdullah al-Senussi, on suspicion of the plane bombing incident over the town of Lockerbie in 1988, in which 270 people were killed, as it is likely that the two suspects had helped Abdel Basset al-Megrahi, the only person who was convicted in Case, and he died in 2012.
This came after an American-British investigation team conducted criminal investigations with Al-Senussi in his prison in the capital, Tripoli, to obtain information from him in the file of the downing of the plane.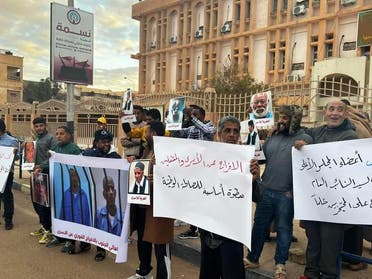 From a vigil demanding the release of Senussi
The Fezzan tribes threatened to cut off the water supply from the Man-Made River and cut off the gas to Italy, in the event that Abdullah al-Senussi was not released or if he was handed over to the United States of America.
Meanwhile, a state of popular congestion prevails in a number of regions of Libya, especially the regions of Fezzan and the central region, after talking about the possibility of the Dabaiba government extraditing Abdullah Al-Senussi to Washington for prosecution in the Lockerbie case, in a scene that is likely to exacerbate the political and social conflict within the country.