One person was killed in a major traffic accident in which about 200 vehicles were damaged in central China, state broadcaster CCTV reported Wednesday, as images from the scene showed chaos.
Aerial photos showed hundreds of passenger cars, minibuses and trucks, many crashing into each other and piled up on a stretch of highway in thick fog.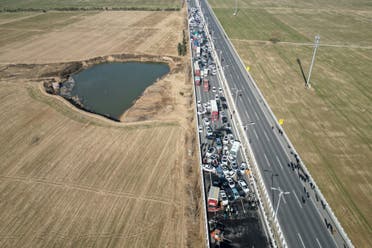 from the accident
Other images circulated widely on the Internet showed the deformed structures of several vehicles colliding with another.
The accident occurred due to almost no visibility due to fog in Zhengzhou City in Henan Province and involved at least 200 vehicles, according to state media.
"Wednesday morning, a sudden thick fog gathered over the Yellow Jingshen River Bridge in Zhengzhou, which led to a traffic accident in which several vehicles collided," CCTV said, quoting the Zhengzhou authorities, adding that one person died in the accident, while the accident resulted in to many injuries.
Zhengzhou Traffic Police said on its official social media account that traffic on the bridge resumed on Wednesday afternoon.
The CCTV report stated that rescue efforts were launched shortly after the accident.
China witnesses frequent accidents on the roads due to the absence of strict safety measures. In September, 27 passengers died after a bus carrying them to quarantine facilities overturned on a highway in Guizhou Province.