In a terrifying accident, 12 people were killed and 29 others were injured when a passenger bus and a truck collided on the Zaafarana Road leading to the Red Sea Governorate, eastern Egypt.
Today, Sunday, the authorities received a report of a terrible collision at kilometer 40 on Al-Zafarana Road, Ras Ghareb, near the site of an oil company. Immediately, several ambulances were sent to transport the dead and injured to Ras Ghareb Central Hospital.
emergency lift
The head of the city of Ras Gharib in the Red Sea, Hamed Ahmed Hamed, revealed to Al-Arabiya.net that ambulances transported 12 bodies of the bus passengers to the morgue of Ras Gharib Hospital, while 30 injured were taken for treatment.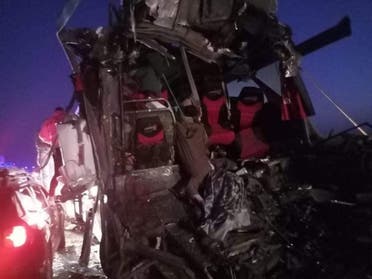 From the saffron accident
He added that the state of emergency was lifted by the city's authorities, as all doctors and nursing staff were called to the hospital to participate in the treatment and rescue of the injured. All efforts were made to remove the effects of the accident in a quick time and to restore traffic to normal on the road, which connects the Red Sea governorate with many other governorates.
Urgent aid
On the other hand, the Ministry of Social Solidarity decided to disburse urgent aid to the families of those killed and injured in the accident. Minister Nevin Al-Qabbaj directed the Director of the Solidarity Directorate in the Red Sea Governorate to quickly deal with the repercussions of the accident and to disburse urgent aid.
It was decided to spend 50,000 pounds in the event of the death of the head of the family, 25,000 pounds in the event of the death of a family member, and 5,000 pounds for each injured person, according to the length of stay in the hospital.