Dr. Hani Sweilem, the Egyptian Minister of Water Resources, revealed that his country was not affected by the third filling of the Renaissance Dam due to a surprise that had not occurred in 115 years.
In his speech before the House of Representatives, today, Tuesday, the Egyptian minister said that Egypt was not affected by the third filling of the Renaissance Dam due to a large flood that had not occurred in 115 years, and large amounts of rain, which made Egypt obtain unprecedented amounts of water, adding that this led to To not be affected at all by Ethiopia's third storage of the Renaissance Dam.
Swailem stated that his country monitors what is happening in Ethiopia on a daily basis, and accordingly preparations are made in terms of water for any emergency, reassuring the Egyptians to pass the next stage with the least impact, and stressing that the third filling has been dealt with technically.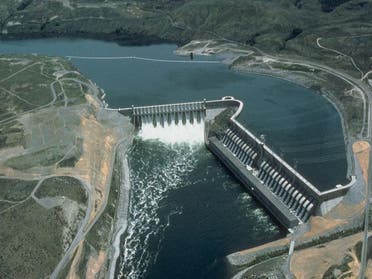 Renaissance Dam – France Press
The Egyptian minister said that his ministry is closely following the impact of the filling of the Grand Ethiopian Renaissance Dam on the quantities of water coming to Egypt and the High Dam, and based on the follow-up, the necessary preparations are made, explaining that his country obtains information about the Grand Ethiopian Renaissance Dam from satellites or by various scientific methods.
Satellite images taken recently showed Ethiopian preparations to start the fourth filling of the Grand Ethiopian Renaissance Dam.
Egyptian expert Dr. Abbas Sharaki said in statements a few days ago to Al-Arabiya.net that satellites revealed, last Sunday, that the two drainage gates above the middle corridor were opened and the two turbines stopped working as water continued to cross the corridor.
He revealed that the water passing through the two drainage gates will stop within a day or two at most, which will lead to drying up the middle passage in preparation for the start of concrete works, increasing the height of both sides of the dam and starting storage.
It is noteworthy that the Ethiopian government had announced last summer the completion of the third filling of the Renaissance Dam, with a volume of 22 billion cubic meters.
Ethiopia announced that the second filling was completed in July of the year 2021, and amounted to about 3 billion m3, while the first storage of the dam, which took place in July of the year 2020, amounted to about 5 billion m3.
The dam raises a crisis between the three countries, Egypt, Sudan and Ethiopia, as Egypt and Sudan demand an agreed legal and technical timetable for filling, operating and sharing the dam's data.
Egyptian President Abdel Fattah El-Sisi stressed the firm Egyptian position in reaching a binding legal agreement regarding the rules for filling and operating the Renaissance Dam, stressing Egypt's adherence to its acquired water rights and guaranteeing water security for it through clear rules for the filling and operation process.