A big surprise, the details of which were revealed by Egyptian art critic Tariq El-Shennawy, about banning Ahmed Salem, who was known as "The Singer Al-Naqash"From the participation of Asala singing in the closing ceremony of the Arab Music Festival at the Egyptian Opera House.
Al-Shennawi revealed in exclusive statements to Al-Arabiya.net that one of the festival officials objected on the day of the ceremony to Salem's participation in the ceremony, claiming that he was not trained and was not worthy of the Egyptian Opera House.
Then it became clear that the musician Helmy Bakr, a member of the Higher Committee of the Arab Music Festival, was behind the ban. He confirmed in press statements that Salem must be rehabilitated before standing on the opera stage, and it is not permissible to throw him into the sea once without first teaching him to swim.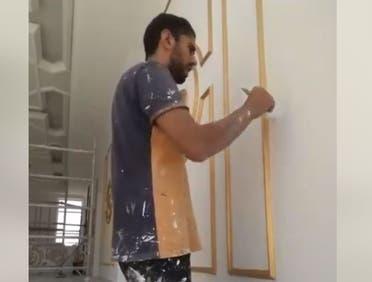 Ahmed Salem's photo from the video that made him famous
Al-Shennawy confirmed that he was present during the ceremony, which witnessed the rise of a child to the stage in order to shake hands with Asala and asked her to spontaneously participate in singing, which Asala allowed, and no one talked about her training or being unqualified to stand on the opera stage.
Al-Shennawi attacked the arrogant view that was dealt with the singer Salem, especially that Asala wanted to support his talent to participate in a small segment during the concert, but in the end the loud voice succeeded in not participating in the ceremony.
Al-Shennawi's statements came to deny what the singer Al-Naqqash himself mentioned, as he published a video about his non-participation in the ceremony due to the lack of special papers in order to submit to the festival.
Despite his appearance in rehearsals accompanied by Asala a few days before the concert, Bakr's statements confirmed what Al-Shennawi said, as the first admitted the matter, explaining that if the singer made a mistake in singing, the responsibility would fall to the festival's higher committee.
The matter has become a new crisis among the crises of musician Bakr, who has entered into more than one previous artistic clash, and he always has sharp opinions, from which Asala herself, the heroine of the concert, was not spared.
It is strange that Asala did not perform during the concert the song "Ali Jarry" composed by Bakr, despite the public's request and urgency.