Days away from the start of the FIFA Club World Cup hosted by Morocco, pages on social media circulated a picture of a stadium filled with water and said it was one of the Moroccan stadiums that will host the tournament matches.
But the claim is wrong, and the picture was actually taken at Burj Al Arab Stadium in Alexandria in 2015.
The picture shows a soccer field filled with water that covered the grass.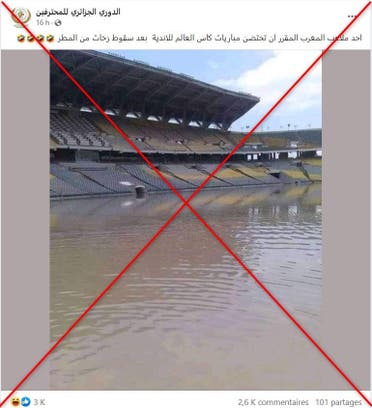 Its publishers also commented, "One of the stadiums in Morocco is scheduled to host the Club World Cup matches, after showers of rain fell."
The image has previously spread as being taken in other Arab countries recently in the context of criticizing the level of sports facilities in them, according to what was published by "Agence France Presse".
The circulation of this image coincides with Morocco's preparations to host the Club World Cup, which will be held from 1 to 11 February.
It will be the third time that Morocco hosts the Club World Cup after 2013 and 2014, noting that the last edition was hosted by the United Arab Emirates and Chelsea crowned England.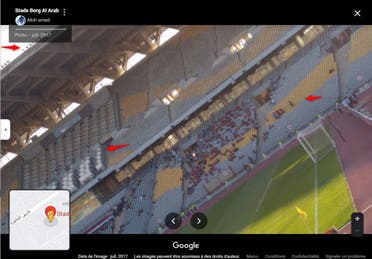 photo reality
But the picture is not of a stadium in Morocco. A search for it by search engines indicated that it was published on several Egyptian news sites in 2015, as being for the Burj Al Arab stadium, which was scheduled to host the match between the Egyptian team and the Chadian team.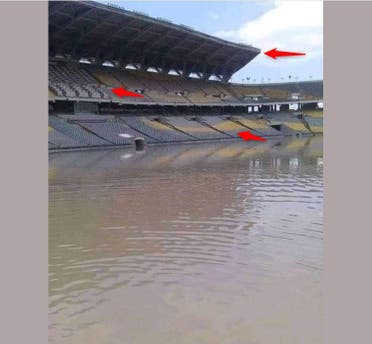 Indeed, the details of the stadium in the circulated image match the images of the Burj Al Arab stadium published on Google Maps.
According to what was reported by the media at the time, the stadium was filled with water as a result of the rains that took place in Alexandria at the time.
This did not prevent the match from being held in Burj Al Arab, which ended with the Egyptian team winning 4-0 to reach the third round of the African qualifiers for the 2018 World Cup in Russia.