The Saudi Ministry of Health issued a new alert regarding seasonal influenza, as the spokesman for the Saudi Ministry of Health, Dr. Muhammad Al-Abd Al-Aali, explained that the seasonal influenza vaccine protects by 80% from severe symptoms.
He said: We are witnessing a rise in seasonal influenza cases in Saudi Arabia, and the activity of seasonal influenza during these days is stronger than in the past two years, so one should not be exposed to direct rain and cold currents, as there are many who are in intensive care due to seasonal influenza, which may lead to death.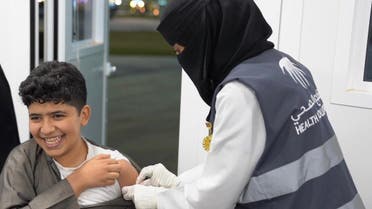 Seasonal influenza vaccination
Seasonal influenza vaccine
The Saudi Ministry of Health had recently launched an awareness campaign to vaccinate against seasonal influenza under the slogan "The moment you wish for", targeting the groups most affected by it, such as the elderly, people with chronic diseases, people with immunodeficiency, pregnant women, health sector workers, and the general community, stressing that Vaccination is safe and has no side effects, and it has proven its efficacy for many years in all countries of the world.
The Ministry of Health also indicated that the prevention of influenza lies in taking the vaccine, avoiding crowded places, washing hands well, avoiding direct contact with the eyes and mouth, using tissues when sneezing or coughing, and ensuring the cleanliness of the place.
Through this campaign, the Ministry of Health seeks to increase the number of vaccinated persons, reduce the rate of infected people, and the number of hospitalized patients due to seasonal influenza.
And she recommended that citizens and residents take the seasonal influenza vaccination, and book through the "My Health" application in the seasonal influenza vaccine service, as the vaccination prevents infection with this disease by between 70 and 90%.
It is noteworthy that these awareness activities come as a continuation of the efforts made by the Ministry of Health to preserve the health and safety of all members of society, to enhance health awareness, and to urge the adoption of sound behaviors.